How to keep your Oriental rug looking at its best. Part II
Vacuum rugs often, and do it on both sides. Try to use the vacuum nozzle instead of a beater bar and whatever you do – don't shake them! Shaking Oriental rugs leads to thread and knots damage. When you vacuum, don't skip areas that are hidden under furniture. Moths love those dark, quiet places and moths' eggs just love to consume rugs.
Or you can try this:
[youtube=http://www.youtube.com/watch?v=-wAzhII7zOs]
Know Rug First Aid
There's nothing to do about it – sooner or later a glass of wine will spill, coffee will drip, the kid's soda, and the dog that couldn't wait… It is very important to master the rules of rug first-aid and act as quickly as humanly possible in order to prevent rug stains and heavy smells. Before the spill begins to dry, clean the area with a wet paper towel. Then use a mix of water and vinegar if you want to prevent color damage.

Get a Rug Pad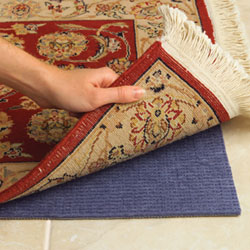 A rug pad is also recommended and can help prevent slippage, act as a buffer to minimize abrasion and protect your floors. A good quality pad will also provide airflow between your floor and the rug and airflow allows the rug to breathe, which in turn will extend the rug's life. Rug pads may also prevent the crushing and wearing of pile after heavy use.
If you still need help with your rug cleaning or rug restoration, turn to a professional Oriental rug dealer such as www.1800GeatARug.com where you will find experienced importers and wholesalers of beautiful rugs from all over the world.